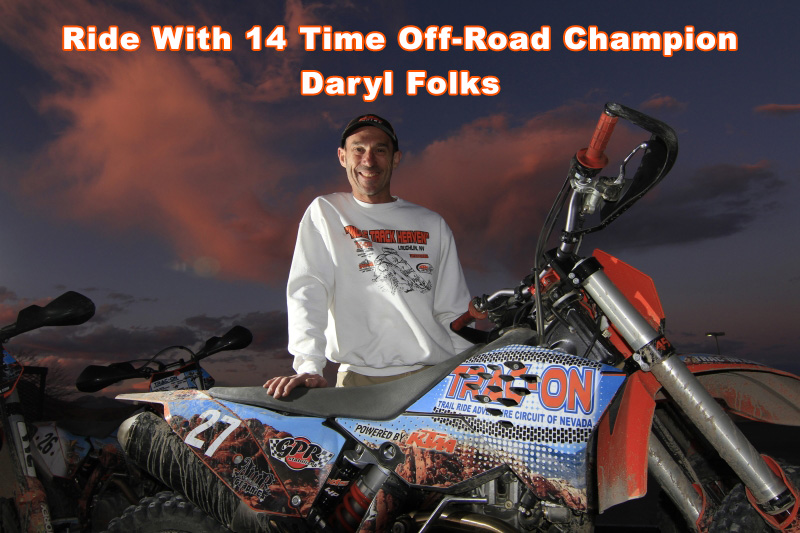 Meet Your Trailboss – Daryl Folks
Daryl Folks is a lifelong Nevadan who has grown up riding and racing dirtbikes in the Silver State.
Daryl's father opened Sportsman Cycle, one of the top selling KTM dealerships in the nation, when Daryl was only three years old and his family has been firmly entrenched in the world of dirtbikes and off-road riding ever since.
Daryl retired from racing at the end of 2003 after winning fourteen #1 plates in various racing associations. His love of riding didn't end with his racing career. Daryl started the Trac-On trail ride series to share his love of riding and his extensive knowledge of Nevada trails with others. Daryl has made it his personal commitment to resurrect long forgotten race courses in beautiful and historic areas of Nevada and get them acknowledged by the BLM as official trails.
Daryl Folks' Accomplishments:
5 time #1 MRAN Plate Holder
2 time SCORE Champion
7 time BITD Pro Champion
Racing Highlights:
1980 Las Vegas 400* 1st 125 pro and 10th OA
1982 Frontier 500 (Original Vegas to Reno)* 1st 125 pro and 9th OA
1985 Frontier 500* 1st 250 pro and 4th OA
1986 Baja 1000* 1st 250 pro and 2th OA
1988 Laughlin US Hare Scrambles Championship 1st 250 pro and 10th OA
1989 Baja 1000* 2nd open pro and 2nd OA
1990 Nevada 500* 1st OA
1990 Baja 500* 1st 250 pro and 6th OA
1991 Las Vegas 300* 1st Ironman (solo) and 9th OA (292 miles of single track)
1992 Caliente Grand Prix 1st OA
1993 Nevada Rally 1st open pro and 4th OA (7 days/2000 miles)
1995 Tonopah 300* 1st over 30 pro and 5th OA
1997 Vegas to Reno* 1st over 30 pro and 3th OA
2000 Nevada 2000* 1st over 30 pro and 3rd OA (7 days/2000 miles)
2002 Nevada 1000* 1st 4-st. pro and 5th OA
* denotes team race – OA denotes Overall
Call 702-232-6680 to schedule your ride with Daryl today!!